Abbreviations , Acronyms, and Symbols: This legend will help you identify the abbreviations, acronyms and symbols found in photographs located throughout the text below.
311 : 311 is an alphanumeric code that Ku Klux Klan members use to refer to the Klan. The letter "K 'is the 11th letter of the alphabet, thus 3 times 11 equals" KKK ", ie, the Ku Klux Klan.
AKIA: AKIA is a Klan acronym which stands for "A Klansman I Am."
AYAK: AYAK is a Klan acronym which stands for "Are You A Klansman?"
FGRN: FGRN is acronym which stands for "For God, Race, and Nation."
ITSUB: ITSUB is acronym which stands for " In The Sacred Unfailing Being," a reference to the Christian God. It is one of many Klan acronyms created by the Second Ku Klux Klan that emerged in the year 1915.
KBARK: KABARK is a Klan acronym which stands for "Konstantly Applied By All Regular Klansmen." Today it is essentially meaningless, and is being used as a "sign-off" in online messages by Ku Klux Klan members.
KIGY: KIGY is a Klan acronym which stands for "Klansman I Greet you."
KLASP: KLASP is a Klan acronym which stands for "Klannish Loyalty, A Sacred Principle."
IGIT: IGIT is acronym which stands for "In God I Trust."
Non Silba Sed Anthar: Non Silba Sed Anthar is a Klan slogan meaning "Not Self, But Others." It is sometimes abbreviated as NSSA.
Blood Drop Cross: The primary insignia of the Ku Klux Klan (KKK) is the MIOAK, or "Mystic Insignia Of A Klansman", commonly referred to as the "blood drop" cross.
Triangular Klan Symbol: The Triangular Klan Symbol is made up of what looks like four small triangles inside of a much larger triangle, but which represents three letter K's aligned in a triangle and facing inwards.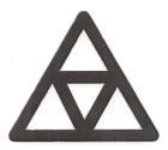 Gregory Scott Woods (aka, Greg Woods, Scott Woods, AKIA Woods, Woodsy) is a 52 year old Caucasian male, currently living in Natural Bridge, Virginia. Mr. Woods is a racist white supremacist, and who is a current and longtime member of the Virginia Confederate White Knights of the Ku Klux Klan (CWK-KKK).
The Ku Klux Klan, also referred to as the KKK or simply-the Klan, is one of the longest running and most well known white supremacist hate group in the United States, whose primary target is African Americans. However, it has been known to also target Jews, Immigrants, Catholics, Homosexuals, and the general opposition from the political left. The Klan has existed in three distinct eras throughout the history of the United States. In each era of it's incarnation, the Klan has advocated for far-right reactionary positions such as white-ethno- nationalism, nativism/xenophobia and—especially in later manifestations—Folkish (Volkisch) Asatru/ Esoteric Hitlerism and anti-Catholicism. Historically, the First Klan used terror – both physical assault and murder – against politically active African Americans, and their allies, throughout the Southern United States in the late 1860's, until it was finally suppressed around 1872. All three historical eras have called for the "purification" of American Society. In each era, its membership was kept as a closely guarded secret, and estimates of the total were highly exaggerated by its members and allies, as well as its enemies.
The first Klan established itself in the South in the years following the Civil War during the Reconstruction, but then died out by the early 1870's. It sought to overthrow the Republican-controlled state governments in the Southern United States, and used violence against African-American civil-rights leaders. Each chapter was independent and highly secretive as to its membership, and plans. Many of the Klan's chapters across the South were suppressed around 1871, by the federal government. Members made their own robes, masks and conical hats, designed to be both terrifying and to maintain a given member's anonymity.
The second Klan started in Georgia in 1915. After 1920 it grew by leaps and bounds, and spread throughout the nation in the early to mid-1920s, including certain areas of the Midwest. It had a virtual revival after the release of D. W. Griffith's 1915 silent film "The Birth of a Nation", which lionized the founding of the first Klan, it began to use sophisticated marketing techniques, and collegiate fraternal organizational structure. Rooted in fundamentalist Protestant/Calvinist communities, it stove to maintain its racist/white supremacist hold on the South, it has both vehemently anti-catholic and anti-semitic. It used mass parades, rallies, and cross-burnings to make a show of strength and unity-and to intimidate its opposition. However, in the late half of the 1920's saw the Klan's rapid decline.
The third resurgence of the Klan grew after 1950, in the form of isolated local groupings born out of opposition to the African-American Civil Rights Movement, often attacking and murdering activists. Both the Southern Poverty Law Center (SPLC) and the Anti-Defamation League (ADL) have classified the Klan as a hate group, whose membership ranges broadly from approximately 3,000 to about 6,000 persons.
Here are some photographs indicating Mr Wood' s membership in the Confederate White Knights of The Ku Klux Klan (CWK-KKK) :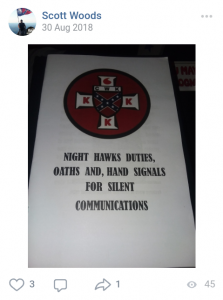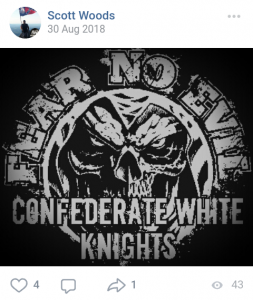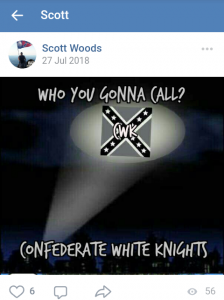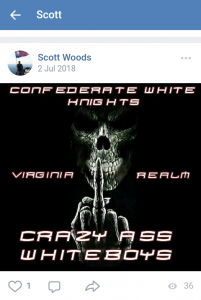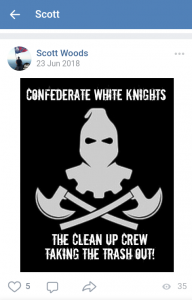 Here are photos of Mr Woods at a Klan Rally in Martinsville, VA in June 2017, the last two feature him using the "It's Okay to Be White" racist hand gesture: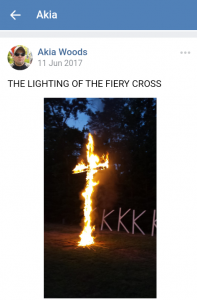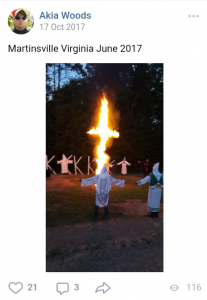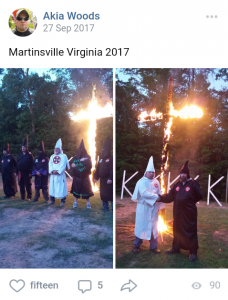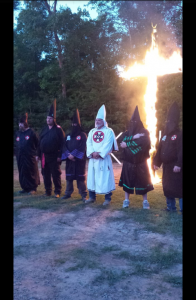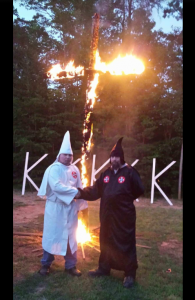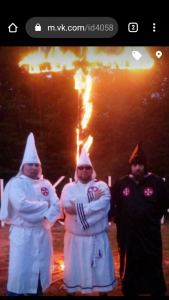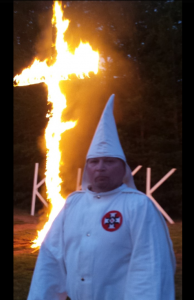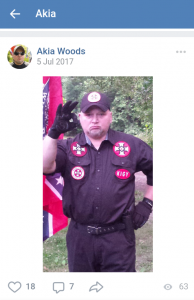 Here are some photos illustrating Mr. Woods's flagrantly racist views on social media. The first two images uses the term "Hood Rats" in reference to African-Americans. The wearing of the ape mask in connection with the above term is meant to refer to African Americans as "monkeys" – a common racist epithet: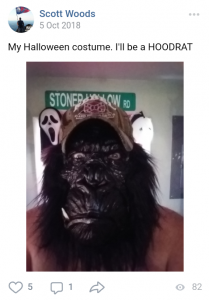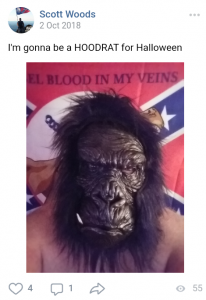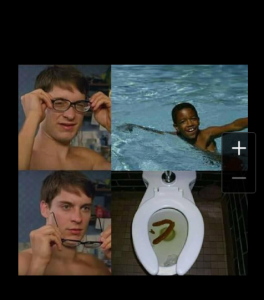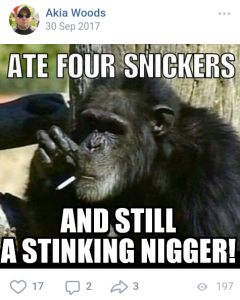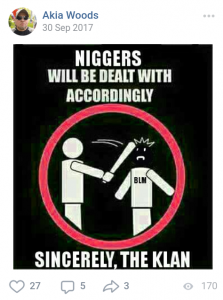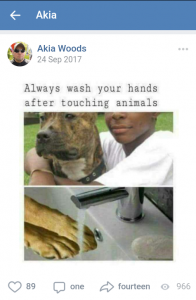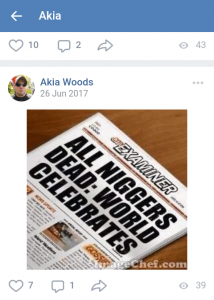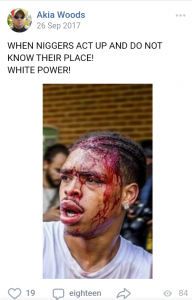 Here are some pictures showing Mr. Wood's membership, or affiliation, to the League of the South (LoS). The reader should take note of The Cushman Flag, which has two black crossed bars on an otherwise white background. Here they are: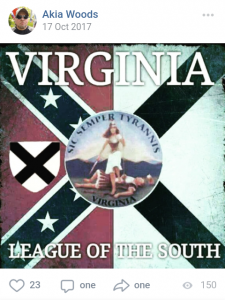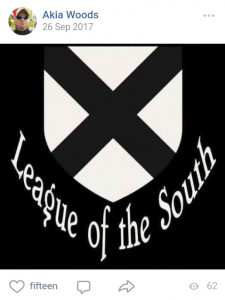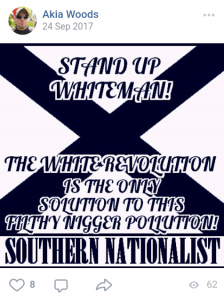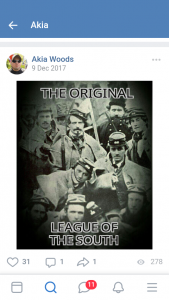 Mr Woods has been identified and exposed by anti-fascists as a participant in the violence surrounding the August the 12th, 2017 Unite The Right Rally where he was photographed attending the rally and marching with other members of the Ku Klux Klan and the League of the South, as well as taking a swing at an African American protester with a flag pole, who was defending himself with an improvised blow-torch. At the same time we saw Maryland Imperial Wizard Richard Preston discharging his firearm at the same protester within 1000 feet of a school. A crime that garnered him four years in prison. See photos below: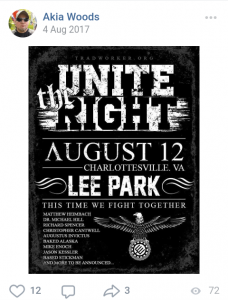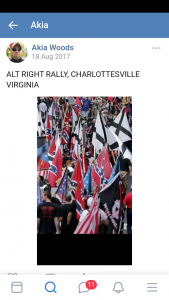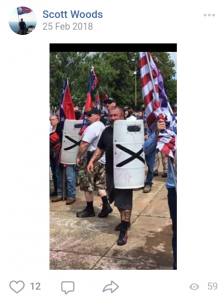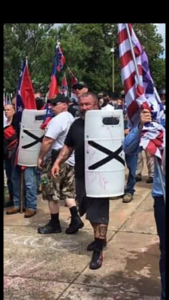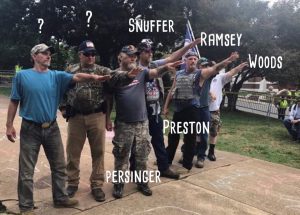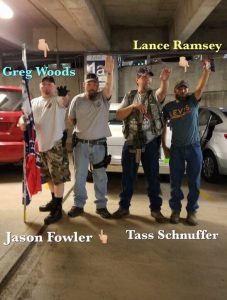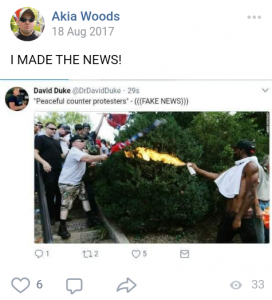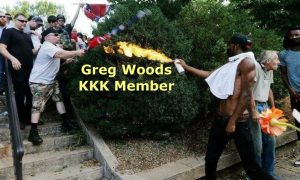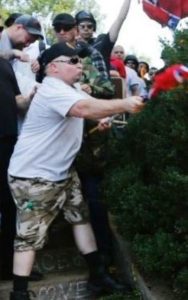 Not too long after Mr. Woods was called in to testify in regards to the events of August the 12th, 2017- anti-fascists exposed Mr. Woods for committing perjury in regards to injuries he claimed to have sustained from the encounter with the protester and his blow-torch, but were in fact found to be wounds he sustained from his occupation as a welder that transpired far before the events that occurred in Charlottesville. Take a look: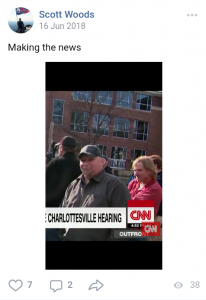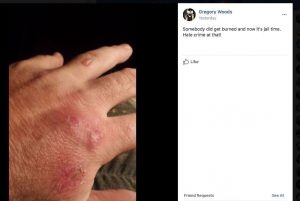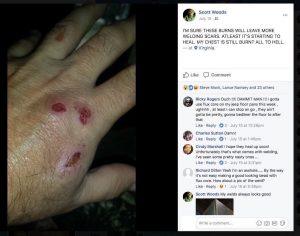 From looking at his social media we can see clearly that he was born on March 31st, 1967 which makes him 52 years old, and that he lives in Natural Bridge, Virginia. Natural Bridge is an unincorporated part of Rockbridge County. See Below: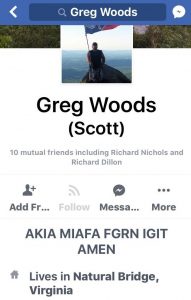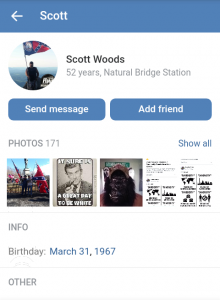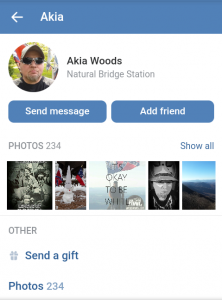 However, when we look at photographs of his home, also found on social media, and then cross reference those photos with satellite or aerial photography-it gives us a more specific location as to where he resides. Notice that the house seen in the photos off social media of his 3 bedroom, one-story, bungalow-style house has two tall trees in front, and have triangular-shaped roofs for easy water run-off, all of which match the image found from satellite or aerial photography. Also notice from the Satellite, or aerial, photo that there is an attachment to the left side of the house. That attachment is the same outdoor patio deck that you see on his social media account. These images do in fact correspond to a specific address. Observe: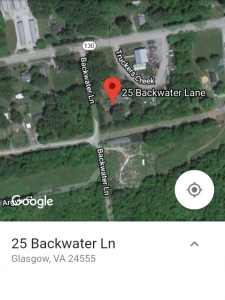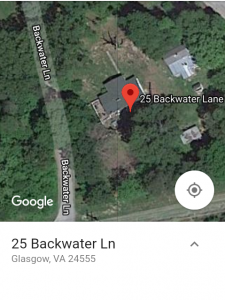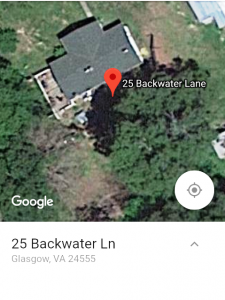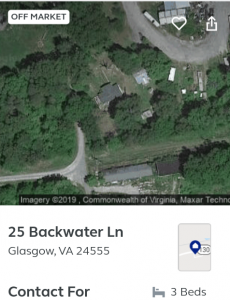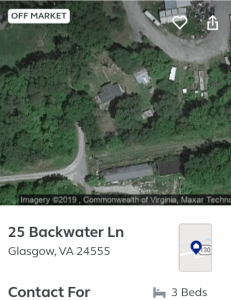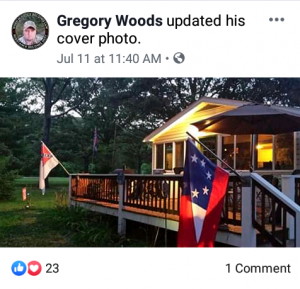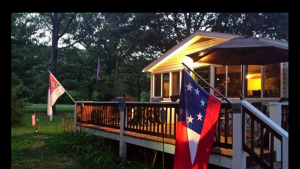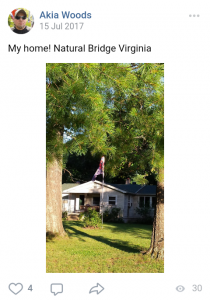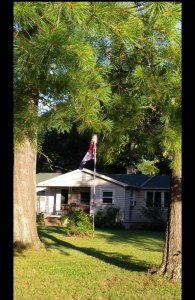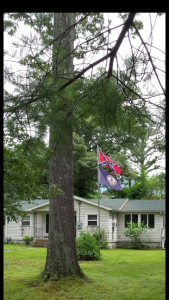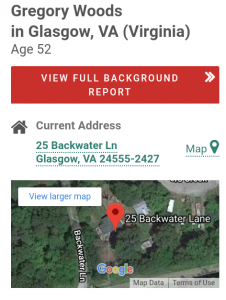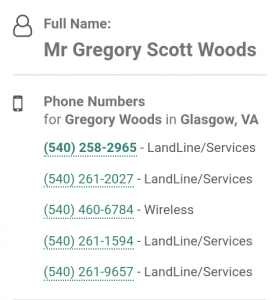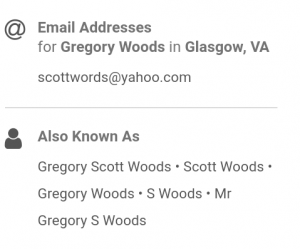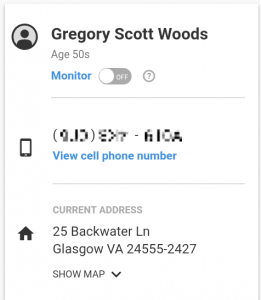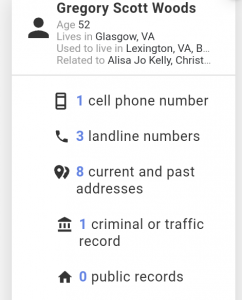 Therefore:
NAME: Gregory Scott Woods
ALIASES: Greg Woods, Scott Woods, AKIA Woods, Woodsy.
DOB: 03/31/1967
AGE: 52
OCCUPATION: Welder.
LAST KNOWN ADDRESS: 25 Blackwater Ln. Glasgow, VA. 24555
FACEBOOK:
https://m.facebook.com/forest.woods.148
https://m.facebook.com/scott.woods.3511
https://www.facebook.com/greg.woods.5895
VK:
https://m.vk.com/id284404080
https://m.vk.com/id405845446
https://m.vk.com/id474669933
He also has a images of three separate vehicles on his social media acounts and they are:
1.) VA LPN#: 1-WOODSY, which is believed to be a Black 2002 Chevrolet Avalanche 1500/1500 North Face.
2.) VA LPN#: UXW-2449, which is believed to be a Red 2000 Jeep Cherokee Sport, SUV 4D, 4.0L, I6, SFI.
3.) VA LPN#: WRJ-7377, which is believed to be a White 1991 Jeep Wrangler S, SUV 2D, 2.5L, I4, MPI.
See imagery below: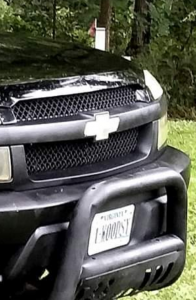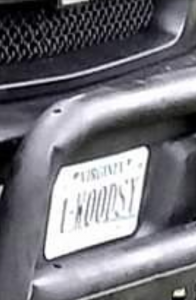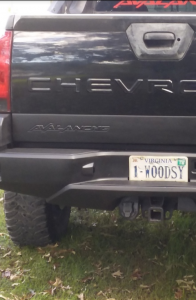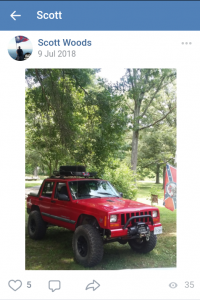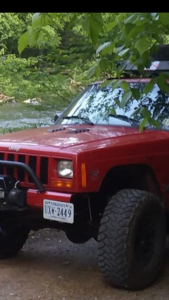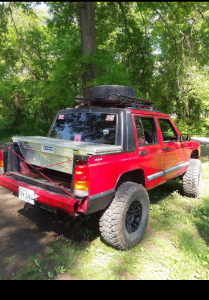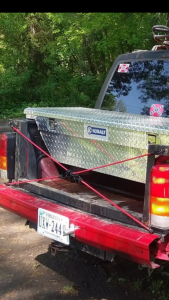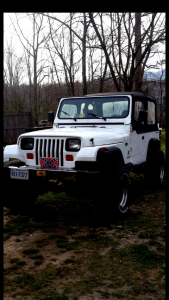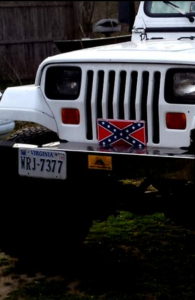 Given his activities at Charlottesville, and his prodigious collection of weapons-he is considered armed and dangerous: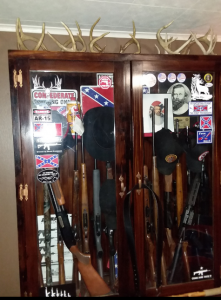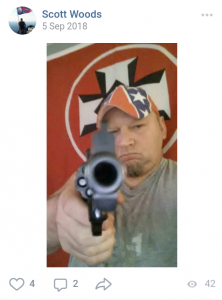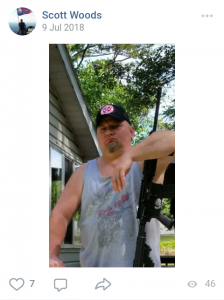 If you have any information on where Gregory Scott Woods works, or any other information regarding this individual that you'd like to share, please feel free to contact us anonymously at: mboroafa@protonmail.com